Remember, these symptoms may not always relate to sleep apnea, so please discuss any concerns you may have with your doctor to ensure that an accurate diagnosis is made
What is sleep apnea?
When you have sleep apnea, the air stops flowing to your lungs for 10 seconds or longer – that is, you actually stop breathing.
Sensing you have stopped breathing, a control centre in your brain triggers you to wake up just enough to take a breath. Then you fall back to sleep and the cycle begins again. In some people, this can happen over 30 times every hour even though you may not remember waking up.4
As you can imagine, constantly being triggered back into breathing, hour after hour, night after night, can put a strain on your body.
You may feel very tired day after day yet not realise that you have been waking up so many times at night as a result of having sleep apnea.
What should I do if I suspect a problem?
If you have tried improving your sleep, but still snore or wake up feeling tired, it is time to talk to your doctor.
"If you have been told you snore, and feel tired and unmotivated a lot of the time, take time to discuss this with your doctor. Renewed enthusiasm for living and a joyous vitality may just be your reward."

– Dr Carmel Harrington, Sleep Consultant
Types of sleep apnea
There are three main types of sleep apnea: obstructive sleep apnea (OSA), central sleep apnea (CSA) and mixed sleep apnea.
Obstructive sleep apnea (OSA)
Obstructive sleep apnea is the most common type of sleep apnea, making up 84%
of sleep apnea diagnoses.5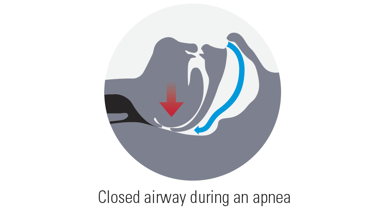 In most cases of obstructive sleep apnea, the air stops flowing to the lungs because of a blockage (or obstruction) in the upper airway – that is, in the nose or throat.
The upper airway could become blocked due to:
the muscles around your airway relaxing too much during sleep, which blocks sufficient air from getting through. This narrow airway causes a vibration in your throat, which creates the sound of snoring
the weight of your neck narrowing the airway
inflamed tonsils, or other temporary reasons
structural reasons, like the shape of your nose, neck or jaw
Central sleep apnea (CSA)
Central sleep apnea (CSA) is a less common type of sleep apnea.5
In some cases, the airway is actually open but air stops flowing to the lungs because no effort is made to breathe. This is because the communication between the brain and the body has been affected so the automatic action of breathing stops. People with CSA do not often snore, so the condition sometimes goes unnoticed.
Mixed sleep apnea
This is a mixture of both obstructive sleep apnea OSA (where there is a blockage or obstruction in the upper airway) and CSA (where no effort is made to breathe). Your doctor can help you understand more about this if you need to.
If you have any concerns that you may have any type of sleep apnea, please consult your doctor.
Sleep apnea treatment
It is important to take sleep apnea seriously.
But the good news is there is a treatment for it, and most people experience a whole range of benefits from being treated:
By treating your sleep apnea, you may help to lower the associated risks and improve your overall health6
In many cases, treatment has been shown to reduce the symptoms of sleep apnea, such as daytime sleepiness, depressed mood, reduced memory and concentration, and reduced quality of life (especially in the areas of work performance and family relationships)7
Untreated sleep apnea is also associated with symptoms including dizziness, shortness of breath and chest discomfort, which may be reduced when your sleep apnea is treated.8,9
People with sleep apnea can become too tired to exercise, making some of their underlying conditions worse. Obese people being treated for their sleep apnea gain more energy, which may then help them exercise and lose weight.10 And weight loss has been shown to improve sleep apnea for some people.11
What next?
If you suspect you might have sleep apnea, you are only a few steps away from a better night's sleep and feeling like yourself again. Find out more by reading about sleep studies and treatment options.